>> Wednesday, March 10, 2010
Another project I did for the shower was covering kraft letters in matching Amy Butler fabric to spell out Baby Zenna's name. I had these on the present table, and they looked SO CUTE! And of course, they were also a gift for Zenna (I love how a lot of the things I could make to decorate for the shower would end serving a double purpose and decorate Zenna's nursery).



Here's what I used for this project:
Kraft Letters from
Paper Source
(you can order these online in either capital letters or lowercase letters. Note that a lot of the letters - like the lowercase "e" - can't stand up on their own, so you may have to hang them with ribbon or attach them to a wall).
A fat quarter pack of fabric in coordinating colors/prints. I ordered an Amy Butler Midwest Modern pack from
Small Grapes
on Etsy and had plenty to do 5 lowercase letters.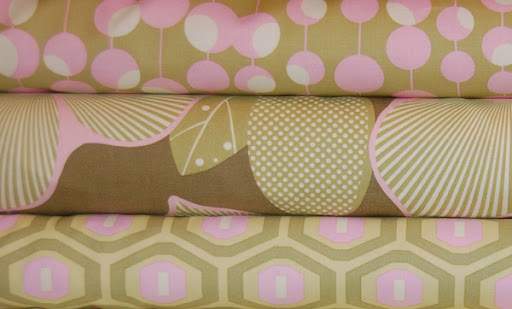 And to finish the edges I used 1" Grosgrain Ribbon in chocolate from
Paper Source
. I only needed about 8 yards (2 yards per letter) and there are 10 yards per roll. But any 1" ribbon would work!
The nice thing about using the Kraft Letters is you can cover them in ANYTHING you'd like! Fabric is definitely time consuming and labor intensive...but you can also use paper, scraps (decoupage), embellishments, rubber stamps. ribbons, trims, etc. and create a custom work of art that fits any style or theme!
Here is a
link
to the

HOW TO

guide on Paper Source's website...there are videos showing you what to do, and also a list of tools you can use to create amazing Kraft Letters! And they have instructions for covering the letters in glitter,
here
, on their blog.
P.S. Make sure to check out the shower, featured on
ohdeeoh
today!!!!!