>> Tuesday, May 18, 2010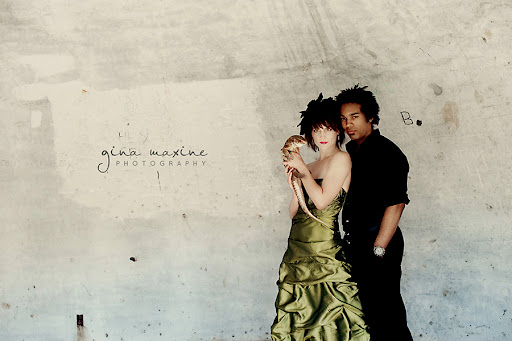 I am so excited to finally be posting part II of this CRAZY awesome
Love Shoot
with Brooke & Auston, shot by the ever-talented Gina Maxine! I must admit, emailing back and forth with Brooke prior to the shoot made me nervous and excited to style this artsy and daring couple...she mentioned nude underwear, Lady Gaga, and lizards all in one sentence and my chin probably dropped! Needless to say I was completely thrilled to work with a fierce couple - they were willing to express themselves and be completely raw and honest in these photos. It turned out to be SO EASY to style a shoot featuring a couple that were so unbelievably authentic. I LOVED IT!
Brooke and Auston are both Cal Poly students, and chose the fabulous Poly Canyon location for their shoot. If you haven't been there...you MUST go. It's eerily amazing, has lots of great natural elements juxtaposed against cool architectural structures, and was perfect for photographing. Brooke also mentioned that she and Auston loved modern designs, bold colors (especially green), oddities, contrast, action shots & wanted to throw paint on each other. Can you say AMAZING?
Yes, Brooke totally climbed to the top of this massive structure in 4 inch high heels and a full length gown. Fearless? Indeed!
Ok, the photo below is definitely one of my favorite shots from the day - doesn't it scream Vampire/Twighlight?! Her make up and complexion are to die for (pun TOTALLY intended).
This shoot was invigorating and refreshing. I loooove working with great clients! Thank you so much, Auston & Brooke (and of course your pet Lizard) for being so much FUN! I hope you are as inspired by your photographs as I was by YOU!
Photography: Gina Maxine Photography
2nd Shooter: Kim Seidel Photography
Styling & Art Direction: Frenchie & Flea,
Make Up & Styling Assistance: Brooke Robinson
Hair: Frenchie & Flea
Location: Cal Poly San Luis Obispo, CA